After a series of accidents and falls, Jan found that even a simple hack on her horse was nerve-wracking. That's when she decided to take up her friend's recommendation and she came to me. After just two hours she was back in the saddle. She once again was enjoying fun rides, hacking with pleasure and horse riding with confidence. Read her testimony below.
Regaining My Horse Riding Confidence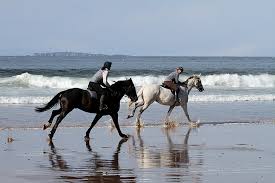 "A friend referred me to Chris as she felt sure he would be able to help me with some serious confidence issues I experienced when riding my horse. She had similar issues but, after seeing Chris, the change was remarkable.
Two days after my first session with Chris, I did a Fun Ride with my horse. I hoped it may help a little, but didn't expect much change after just one session. As usual, my mouth went dry, legs felt like jelly and "butterflies" churned in my stomach. However, when I mounted my horse, I realised my reaction was totally different; instead of blind panic, I was able to remain calm, breath normally and had a lovely ride! My riding instructor was with me and commented on how "very surprised and very pleased" she was.
Chris has enabled me to think differently about my riding and relationship with my horse. As I became more relaxed and calm, so did my horse, and we are now a far stronger partnership."    Jan Birmingham, Crediton
If you would like to know more or would like to book a £10 only consultation please fill out the form below.