The Devon School of Hypnotherapy founded by Chris Fleet and based in the heart of Torbay offers multiple training courses in hypnotherapy.
We offer training from complete novice through to qualified hypnotherapist and beyond.
So whether you have an interest in hypnotherapy or would like a change of career, click below to discover what we have to offer.
Top Tip: When searching for a hypnosis or hypnotherapy course make sure they are registered with the GHSC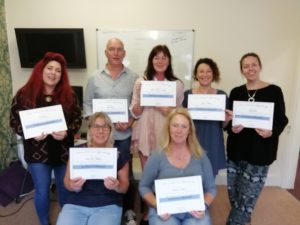 An informal evening guiding you through what hypnotherapy is, familiar misconceptions, its uses and what it can and cannot do. You will discover the importance of professional training and the standards laid out by the General Hypnotherapy Standards Council (GHSC).
Whether you have some experience or are just that little bit curious come along and discover more. 
A one day course designed for those with an interest in self-hypnosis. The course teaches how different parts of the mind work enabling you to learn positive self-talk. The course also covers an introduction to Cognitive Behavioural Therapy (CBT).
A weekend course covering several areas of hypnotherapy including; how hypnotherapy and hypnosis works on the brain, the history of hypnotherapy, hypnotherapy uses, and how to safely and effectively use hypnotherapy.
The majority of this course is practical teaching of induction techniques.
A 10-month, one weekend a month course covering all aspects of hypnotherapy including everything noted in the certificate but at a much deeper level and hypnotherapy as a business. As with the certification course, the diploma has a large practical element.
Upon successful completion, you will be equipped to practice as a fully qualified, registered and insurable hypnotherapist.
The qualification is regulated by the GHSC, Britain's largest hypnotherapy governing body.
Click Here For Information